Crash with MacIntel & Word 2004
FLASH!!!
This issue is fixed with the OS X 10.4.8 update.
A serious issue has appeared with Word 2004 on Macintosh computers fitted with Intel processors.
The use of certain fonts causes the ATSServer process (part of OS X) to die whenever you attempt to save a Word document. This leads to a generalised failure of the entire system. One user describes it, "As though the system goes into a death-spiral, crashing all applications and logging out the users."
The issue affects only Intel Macs, and only when used with Word 2004. There have been no reports of the issue in PowerPC Macs, and no reports triggered by other software. The documents affected will open and save normally on PowerPC machines, and on PCs.
There are no particular fonts to blame, although Adobe Minion Pro, one version of Garamond, and the Adobe OpenType version of Linotype's Neue Helvetica are known to cause the problem.
Do NOT confuse this issue with the "Corrupt Font" issue, covered elsewhere on this website. They're not the same issue, and this fix will not work for that one. It is, of course, possible to have both issues at once!
Work-Around
The best work-around is to disable the preview picture on Save.
On the Word menu, open Preferences>Save
Turn OFF "Save preview picture with new documents"
The "Preview Picture" has never been of much use. It is designed to show the content of the first page of the document in the File>Open dialog. Normally, the text is too small to read! See the preview picture for this document below.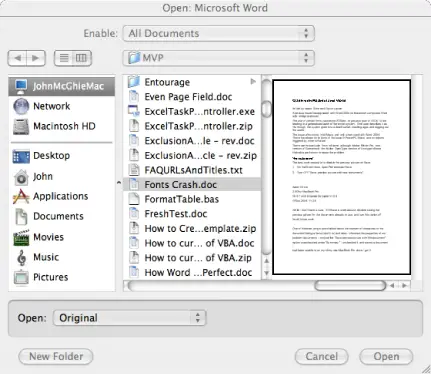 Aaron Grice discovered that turning this setting off appears to allow Word documents to save normally, regardless of the fonts in use (with the possible exception of especially long and complex documents – more on this to follow soon).
Aaron says "ATSServer is the Apple process involved, but I don't think it's at fault or Excel and Power Point would be similarly affected, and they're not.
"When I look at the ATSServer crash log, it looks a lot like an Acrobat crash log, ending in references to 'Binary Images Description'. It looks like ATSServer is trying to render the text for the Word preview. Turn off the preview and life is good."
Other Fixes
Basically, there aren't any! There are several things you can try, and these may work for you.
De-louse your fonts. Use a font utility to check all your fonts, and remove or re-install any that are found to be faulty. The process is described here.
Disable the fonts you find cause problems. You can use Apple Font Book or a third-party utility to disable fonts. Note that this is generally not such a good idea: it's better to simply remove the problematic fonts. A system having trouble with fonts will have more trouble if the ATSServer is stressed by having fonts coming and going from the working set, which is what disabling fonts causes.
Restrict yourself to only fonts supplied by Apple or Microsoft. No-one has yet reported this problem caused by fonts provided by either of those companies.
Don't use Word! If you must retain the preview pictures, and you must use the fonts that cause problems for you, then use a different application to edit the documents. Of course, you won't be able to save or see the preview pictures…
Whose Fault is it?
Well, we really don't know!
Microsoft would say that Word works just fine with the majority of fonts in Intel Macs, and with any font in PowerPC Macs, so it's not their fault.
Apple would say that any font works just fine in Intel Macs in all applications except Word, so it can't be their fault.
The font manufacturers would say that their fonts work just fine in PCs and PowerPC Macs, and in any application except Word on Intel Macs, so it can't be their fault!
I suspect that you and I might say "We don't care whose fault it is, one of you should fix it. Now!"
When Will They Fix It?
Again, we have no idea!
All of the companies involved trade in the United States. In the United States legal system, admitting to a defect, or making "forward-looking statements" that later do not come true, can have such horrendously expensive legal consequences that companies can very rarely afford to take the risk of saying anything at all.
The American legal system forces companies to conceal the truth, and there's nothing any of the companies involved can do about that.
For this reason, none of the employees who know about this bug, in any of the companies involved, are allowed to say anything about it publicly. Not even to admit that it exists.
So they cannot tell us if, or when, they will fix it!
On the Word Help menu, there is a "Check for Updates" option. Run it , and set it to check Automatically, Weekly or Daily. If this turns out to be Microsoft's bug, you will know it's fixed when the update arrives. Chances are, you will know before we do!
In OS X's System Preferences>System> there is a Software Update icon. Run that, and set it also to check Automatically and Daily. If this turns out to be Apple's bug, again, you will know when it's fixed when the update arrives.
Or you can watch this web page. As soon as we have received and verified the fix, we will update the top of this article.
More Detail:
Gavin Lawrie investigated this issue very extensively. He produced the following summary:
Under some circumstances documents that work fine on PPC machines cause Word 2004 to crash during Save As... operations on MacIntel machines.
Removing OpenType fonts used in the document from the font folders stops document crashing Word when run on MacIntel hardware.
Installing similarly named PS fonts (but not using them) on machine where OpenType fonts have been removed does not cause crash on Save As...
Editing document to use the substitute PS fonts (Minion rather than Minion Pro) causes Save As... crash to reappear
Editing document to use some other font (Optima rather than Minion Pro) does not cause Save As... crash
Problems are narrowly linked to Word - PowerPoint 2004 (for example) has no problems using the OpenType fonts.
Opening documents using NeoOffice J's Word equivalent seems to work just fine with OpenType fonts activated.